If this restraining order request against West Palm Beach FL Downtown Development Director Rapheal Clemente was granted the fake arrest of #MrDTwpb would've never occurred in 2019 #AuditWPB #FakeBusiness #WestMarsBeach 👽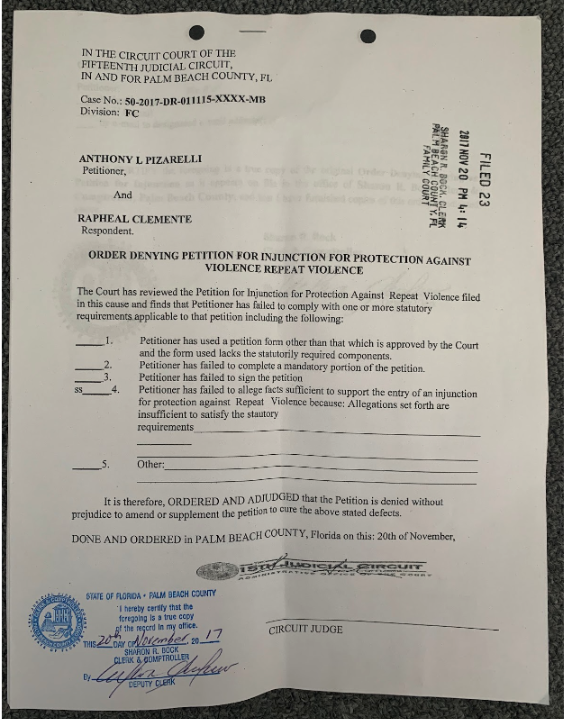 #4 10 31 2017 509 Clematis Street
I was sitting outside & Mr Clemente approached me aggressively talking loudly @ me as I sat outside. I remained seated during his initial surge of fury before standing up and making my displeasure with his antics known. Within this exchange I offered him & I to speak to alleviate our differences & he refused. He continued to yell @ me aggressively until he walked away.
(this event had a well known local witness)
#5 On of about 8/24/2017 West Palm Beach Waterfront
I was riding my bike northbound & Mr Clemente was riding his bike southbound. Upon passing me he flipped the me the bird (aka the middle finger). Additional note her… he was with his maybe 5 year old daughter at the time… he looked at her to make sure she wasn't looking at her dad before make this obscene gesture towards me.
October 9, 2015 501 Fern Street
At a party for Canvas Arts Mr. Clemente approached me in aggressive fashion, made a statement & walked away. I followed him outside where I suggested we resolve our differences through conversation. He responded "I'll knock you out Pizzarelli."
#6 Mr. Clemente is the director of the Downtown Development Authority & I find his behavior unacceptable. He recently had his attorney write me a letter which stated I have been threatening him with violence which is a lie.
I am filing this request in a response to Mr. Clemente's actions towards me & willingness to fabricate facts. I fear unless he is served with a formal notice his behavior may continue.